Current
Alvaro Azcarraga is a Mexican artist and researcher focused on biological networks and their change through time and space. With a background in Molecular and Cellular Biology, he focuses on how the microscopic relates to the human and beyond. His work questions the notion of the natural, with projects spanning disparate landscapes including corn, bodies of water, and currently the concept of "weeds". He is currently a graduate student in the Design Media Arts Program at the University of California Los Angeles.
Clinton Van Arnam is a sound and visual artist currently working in Los Angeles. Growing up in the farmlands of southern New Mexico, Clinton's fascination with the interaction between sound and visual noise started at a young age. When he was 18 years old, he left New Mexico to move to Los Angeles and live in a van. While living in Los Angeles, Clinton discovered synthesis and media arts. This led to his pursuit of the academic field of electronics and art. He now studies Design Media Arts at the University of California Los Angeles and focuses his attention on visual art and sound interaction. His work explores the idea of desolation, systematic design, order, chaos, and consciousness.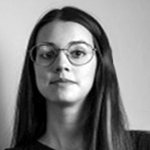 Ivana Dama studies Design Media Arts at UCLA's School of Arts and Architecture. Born and raised under a post-communist regime in Serbia, Ivana explores the infusion of technology with traditional art practices. While only a young child when the bombings began, images of the destruction still clearly permeate her mind. The memories of living in a small shelter, with the sounds of bombs and vibrations, contributed to her interests in sound and space ranging from microscopic, architectural, and satellite scale. Ivana uses the variety of media including audio visual installations, metal engraving as well as a range of open source software for creative coding.
John Brumley is an artist and researcher based in California. John works with localized networks, digital virtuosity, distraction, and hidden infrastructure. John has a PhD in Empowerment Informatics from the University of Tsukuba, MFA in Design Media Arts from UCLA, and BA in music from UC Davis.
Kaitlin Bryson is an ecological artist concerned with environmental and social justice. Her art practice and activism are focused on biological applications of healing, responding to the pervasive persistence of harm in the world. Bryson works with fungi as resource, metaphor and collaborators for her land-based remediation and healing projects. Bryson received an MFA in Art & Ecology from the University of New Mexico and has received support from the Lannan and Mellon Foundations to for art-based, ecological research in Ireland, Mexico and Nepal. Bryson's work has been shown in Ireland, Los Angeles, Albuquerque and Santa Fe, NM and Portland, OR. She is currently the manager of the UCLA ArtSci Center and teaches at the University at Buffalo, New York (SUNY).
https://shilpaontheinternet.wordpress.com/
Shilpa Rao (she/her) is a freshman at UCLA with interests spanning applied science, computer science, hobby blogging, and empathetic communication of STEM disciplines via art. She's still exploring (that's what university is for!) and is usually always tinkering with something new. You can check out her work at https://raoshilpa.github.io/, and her words at https://shilpaontheinternet.wordpress.com/.
Zeynep is an artist and curator from Istanbul, Turkey. She studied film and interactive media at Emerson College, later getting her start at LACMA's Art+Tech lab creating AR installations. She then worked at the Sundance Film Festival's New Frontier Exhibitions and is currently an MFA candidate at UCLA's Design Media Arts program. She primarily works with archived photography, video, and immersive media. Her subjects revolve around identity, history, and loss of memory. She is deeply influenced by Istanbul's city culture and in pursuit of exploring shifting identities to navigate the struggle and alienation that arise from changing social environments.