Farewell to Mick
Featured Image: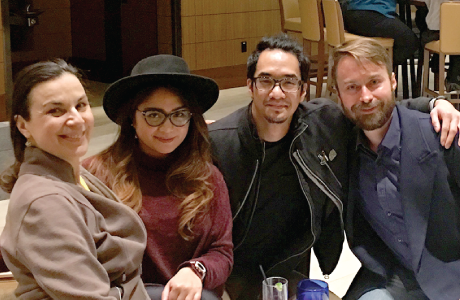 Ending the year with a warm farewell for Art|Sci's Mick Lorusso
It's with endearing hearts and fond sentiments that we must bid farewell to one of the Art|Sci Collective's central members, Mick Lorusso. A new path calls Mick to New Mexico, and we wish him all the best on this new journey of his!
We can't thank him enough for everything he has contributed to Art|Sci's endeavors at UCLA and beyond, and we'll be forever grateful for his creative presence and contagiously uplifting personality.
This won't be the end of our collaboration with Mick, and it's on that exciting note that we punctuate his departure with an ellipsis—we're looking forward to crossing paths again in the near future...
Left to right: Art|Sci director Victoria Vesna, creative director Dawn Faelnar, writer Kenneth Azurin, exhibition / program manager Mick Lorusso — Not pictured: contributor Judy Kim