CURRENT:
NY ELECTRONIC ART FESTIVAL 2015
July 3 – July 30, 2015
Opening Reception: Friday, July 3rd, 4-6pm
Location
: Fort Jay on Governors Island
More info
UCLA Sculpture garden
[LINK]
UCLA Art | Sci gallery
[LINK]
Bird Song Diamond is a
habitat specific
installation that responds to the research of evolutionary biologist Charles Taylor, in development since 2009 when the NSF funded his research project:
Mapping the Acoustic Network of Birds
. He invited Victoria Vesna to participate as an artist in this highly interdisciplinary research group that includes a physicist (Takashi Ikegami, University of Tokyo), ecologist (Martin), linguist (Stabler), engineers and programmers among others.
[PEOPLE]
For three years she quietly listened to discussions and joined Taylor on the field to eventually find herself more and more aware of bird song everywhere and realizing how we have edited out our consciousness this diversity of sound. Taylor shared her impetus for the piece to relate this experience by creating an immersive environment that aims to heighten the audience's sense of sonic spatial interaction with bird song - from multiple perspectives. Mostly it is about communication and listening.
This installation changes in relation to its environment, mimicking the field methodologies of scientists collecting, mapping and analyzing bird sounds -- beyond mating and territorial communication. The first iteration was an outside installation that was set up at the UCLA Sculpture garden and led by physicist Takashi Ikegami. The second inside version is premiering at the NY Electronic Arts Festival hosted by Harvestworks, a non-profit organization focused on sound and media arts since the 70's. This iteration is led by Victoria Vesna working alongside with Max Kazemzadeh who leads an art program for the deaf at the Gallaudet University and sound artists Joel Ong and John Brumley. A private 'on the field' version will be performed upstate NY at the self sustaining farm of artist, curator and author, Linda Weintraub. This will be followed by a public performance at Times square on July 8th. More info here [LINK]

Charles Taylor
Principal Investigator with background in Evolution and Complex Systems. Responsible for overall administration of the project.
---

Joel Ong
collaborator. Phd candidate at DXARTS, University of Washington. Responsible for the design of the artificial language evolution system and ambient soundscape/parametric speakers composition.

Max Kazemzadeh
collaborator. Associate Professor and Program Director of Art & Media Design in the Art, Communication & Theater Department at Gallaudet University in Washington, DC. Max is working on the generative graphic projection and computer vision.
---

Aisen Caro Chacin
collaborator. PhD student at the Empowerment Informatics Program, University of Tsukuba. Supervised by Victoria Vesna -- hardware design.
---
Contributors:
Ikegami laboratory: Mizuki Oka, Atsushi Masumori, Itsuki Doi and Norihiro Maruyama (University of Tokyo)
Taylor laboratory: Carolee Caffrey (advising / feedback)
Special thanks:
Gimzewski laboratory: Dayan Wickramaratne (drone videos), Lindy Ransom (assistance)
Design Media Arts: Maroun Harb, Gareth Walsh
Art Sci center: Mick Lorusso, Mary Tsang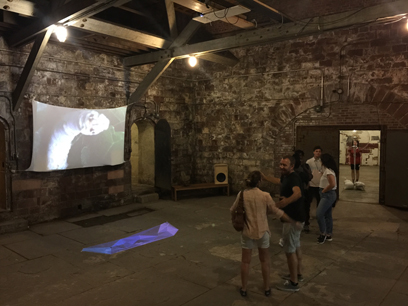 BIRD SONG DIAMOND
Victoria Vesna + evolutionary biologist Charles Taylor
In collaboration with members of the UCLA Art Sci collective: Max Kazemzadeh, Joel Ong and John Brumley
Wednesday, JULY 8: two special events:
noon - 2pm Times square: & Broadway between 46th & 47th streets An audience participatory artwork -- an acoustic version of the immersive installation at Governors Island.
From 3:30-5:00pm, the artists will be present at the sound art installation site at Fort Jay, Governor's Island. Take the 3 or 4pm ferry and come on over – last ferry back is at 6pm! This is a unique opportunity to see the exhibition and meet the artists before they leave the next day. If you cannot make it, the installation is up until July 20th.
Ferry schedule
.
More info about the project
here
.
Presented by Harvestworks 2015 New York Electronic Art Festival @ Times Square NYC: Crossroads Series Supported by the NEA and the NSF. Presented in partnership with the Times Square Alliance Special thanks to National Parks service & the Trust for Governor's Island
Linda Weintraub's homestead
July 4th

NY ELECTRONIC ART FESTIVAL 2015
Times square
July 8, noon – 2pm
Times square


Technical rider [PDF]
The installation consists of parallel activity and stillness and of visuals and sounds. The audience is invited to be the performer by mimicking songs of birds. What are the birds saying?
Being habitat specific, the group chose cave dwelling birds as Fort Jay at Governor's Island is dark and cave like. In response to sound and to stillness, three layers of video emerge -- sonograms taken from Taylor's lab, drone videos of shot imagining how birds see and drone videos of large collection of people gathering for celebration, protest or to mourn. Bird sounds overlay these bird eye views that have now become a way we view ourselves as a collective. How do the birds see us?
Parabolic dishes spatially separate the gallery space making two transceiving stations at opposite corners of the room. The parabolic shape is a subtle but important visual symbol to acoustic science fieldwork, which almost always involves the use of parabolic shotgun microphones. In each transceiving station visitors are invited into communication with the system. They make a call, and enter into conversation with the visitor at the other station.
Their sounds affect the evolution of an artificial language that is being created and replayed when there is more than 2 people joining the system. When there is only one participant the system defaults to a loop, leaving the person speaking to themselves, and the language ceases to evolve. An audiovisual organism evolves from the birdsong human-bird mimicry making grammatical structures that emerge from conversations between birdsong field recordings collected by Taylor's group and human samples that are collected throughout the duration of the exhibition. The artificial sonic language evolves in unison with a growing diamond lattices that are projected on the floor across from one another, serving as a visual representation of evolution.