UCLA Art|Sci at Ars Electronica 2016
Featured Image: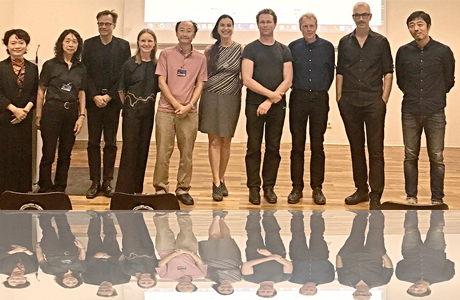 This summer has been busier than ever for Art|Sci!
Victoria Vesna is back in Europe, where she joined Jim Gimzewski at the Kavli prize ceremony in Oslo. After that, they were both off to Linz for a non-stop week at Ars Electronica 2016—not surprising given the topic, Radical Atoms!
For the first day of the festival, Victoria joined her colleagues from the world over to participate in the Campus Educators Forum where they discussed education in media arts. The program was organized by Professor Christa Sommerer, head of Interface Cultures, who announced the newly established alliance with the UCLA Art|Sci Center!
Yasuko Imura, Machiko Kusahara, Don Ritter, Christa Sommerer, Hiroo Iwata, Victoria Vesna, Jared Donovan, Erkki Huhtamo, Stahl Stenslie, Wand Zhigang
As Ars Electronica continued, Victoria—a jury member for the STARTS Prize Interactive Art + category—presented the Interactive Art + Prix winners: "Can you hear me?" by Christoph Wachter (CH) & Mathias Jud (CH); and OpenSurgery, a do-it-yourself surgery robot for domestic laparoscopy by Frank Kolkman (NL)