OCTOPUS BRAINSTORMING: Empathy
Featured Image: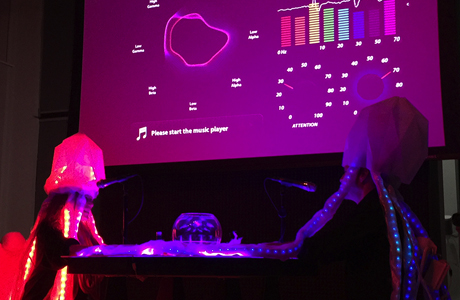 OCTOPUS BRAINSTORMING: Empathy premiere at the Grand Opening of the UCLA Luskin Conference Center.
Octopus Brainstorming: Empathy, the next evolution of Octopus Brainstorming: Synesthesia that was performed at SONOS Studio last year, will be making a special debut early next month at the grand opening of UCLA's new Luskin Conference Center. The event will showcase cutting edge UCLA research on robotics, augmented reality and art-science.
A collaboration between Victoria Vesna and neuroscientist Mark Cohen along with members of the Art|Sci Collective—Mick Lorusso, Dawn Faelnar, Dan Wilkinson—and Daniel Belquer of Not Impossible Labs, the project was recently funded by the Faculty Grant in Transdisciplinary Research. It is a realtime interactive experiment exploring the synchrony of brainwaves between two people reacting to eye contact, sound and color.
Experience Octopus Brainstorming: Empathy at the invite-only grand opening of the new Meyer & Renee Luskin Conference Center at UCLA, which is set to take place on Friday, October 7th!