Team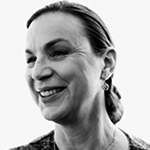 Victoria Vesna
Founder + Director
Victoria Vesna
Victoria Vesna, Ph.D., is a media artist and Professor at the UCLA Department of Design | Media Arts and Director of the Art|Sci center at the School of the Arts and California Nanosystems Institute (CNSI). She is currently a senior researcher at IMéRA – Institut Méditerranéen de Recherches Avancées in Marseille (2011-2013). Her work can be defined as experimental creative research that resides between disciplines and technologies. With her installations she explores how communication technologies affect collective behavior and how perceptions of identity shift in relation to scientific innovation.
Victoria has exhibited her work in over twenty solo exhibitions, more than seventy group shows, has been published in excess of twenty papers and gave 100+ invited talks in the last decade. She is the North American editor of AI & Society and in 2007 published an edited volume - Database Aesthetics: Art in the age of Information Overflow, Minnesota Press and most recently an edited volume entitled Context Providers: Conditions of Meaning in Media Arts. (co-edited with Christiane Paul and Margot Lovejoy). Intellect Press, 2011.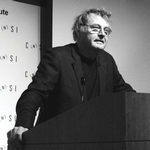 James Gimzewski
Scientific Director
James K. Gimzewski
Jim Gimzewski is a Distinguished Professor of Chemistry at the University of California, Los Angeles; Director of the Nano & Pico Characterization Core Facility of the California NanoSystems Institute; Scientific Director of the Art|Sci Center and Principal Investigator and Satellites Co-Director of the WPI Center for Materials NanoArchitectonics (MANA) in Japan. Prior to joining the UCLA faculty, he was a group leader at IBM Zurich Research Laboratory, where he research in nanoscale science and technology for more than 18 years.
Dr. Gimzewski pioneered research on mechanical and electrical contacts with single atoms and molecules using scanning tunneling microscopy (STM) and was one of the first persons to image molecules with STM. His accomplishments include the first STM-based fabrication of molecular suprastructures at room temperature using mechanical forces to push molecules across surfaces, the discovery of single molecule rotors and the development of new micromechanical sensors based on nanotechnology, which explore ultimate limits of sensitivity and measurement. This approach was recently used to convert biochemical recognition into Nanomechanics.
His current interests are in the nanomechanics of cells and bacteria where he collaborates with the UCLA Medical and Dental Schools. He is involved in projects that range from the operation of X-rays, ions and nuclear fusion using pyroelectric crystals, direct deposition of carbon nanotubes and single molecule DNA profiling. Dr. Gimzewski is also involved in numerous art-science collaborative projects that have been exhibited in museums throughout the world.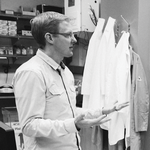 Adam Stieg
NanoLab Director Emeritus
Adam Stieg
nanopicolab.cnsi.ucla.edu/stieg
Adam Stieg serves as Director for the Sci|Art NanoLab Summer Institute. As a scientist and educator at the California NanoSystems Institute (CNSI), his work focuses on developing integrated approaches to study material systems at the interface of traditional boundaries. Through the implementation of original experimental techniques, this research seeks to bridge the gap between our current understanding of nanomaterials and their fundamental properties with how these systems tend toward complexity at increased scales of space and time.
Dr. Stieg's research activities are augmented by active collaboration with artists and designers on various projects, installations, and public exhibitions that directly inform the scientific process and provide motivation to develop new educational content that conveys the need for creativity in innovation.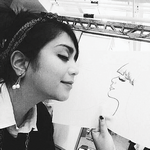 Dawn Faelnar
Creative Director
Dawn Faelnar
Dawn Faelnar is a Media Art Scientist with special interest in innovative projects that promote the beautiful collaboration between Art, Science, Design and Technology. Since graduating from the Design|Media Arts program at UCLA (minor in Neuroscience), and with nearly a decade of exposure to design development, new media and interactive technology, Dawn has been extensively involved in multimedia projects throughout the globe.
Dawn spends her spare time obsessing over novelty paper, experimental music & cupcakes, and managing the continuing fundraising effort she co-founded for the victims of Typhoon Haiyan—Rebuild Cebu.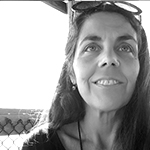 Claudia Jacques
Associate Director
A Brazilian-American interdisciplinary artist, designer, educator and researcher, Claudia Jacques holds an MFA in Computer Art (School of Visual Arts, NY) and is currently a PhD candidate at the Planetary Collegium, University of Plymouth, UK. She is researching space-time aesthetics in the user-information-interface relationship through the lens of Cybersemiotics. Intersecting art, technology and science, she designs interactive hybrid art and information environments that aim to explore perceptions of space-time and the digital-physical in the pursue of human consciousness. She has been collaborating with the ArtSci Center since 2011 as an Information and Instructional Designer and is currently the ArtSci Nanolab Associate Director. She also teaches studio, digital and communication arts, and her studio is in Valhalla, NY. http://claudiajacques.com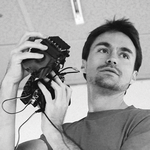 Mick Lorusso
Exhibition/Program Manager
Mick Lorusso
Mick Lorusso is an interdisciplinary artist who coordinates workshops and exhibitions at the ART|SCI Gallery. He has lived and exhibited in Mexico, Germany and throughout the western United States. In his work, he combines scientific research, intuition, and natural observation through drawing, painting, sculpture, installation and interactions, building imaginaries that often present microorganisms and molecules as active participants and performers intertwined with human life and ecology.
Lorusso has participated as a resident in various interdisciplinary art programs, including ArtMill (Prague, Czech Republic) PLAND / ISEA 2012: Machine Wildnerness (Taos, NM, USA), Colorado Art Ranch (Paonia, CO, USA), and Make Art with Purpose 2013 (Dallas, TX, USA). He received an honorary mention in the Prix Ars Electronica 2013 for his work with electricity-producing bacteria entitled "Microbial Schöppingen", which he produced at the Kraftwerk Künstlerdorf residency in Schöppingen, Germany with the guidance of scientists from LabMET in Ghent, Belgium.
Lindy Ransom
Administrative Specialist
Lindy Ransom
Lindy Ransom is currently an administrative specialist working for Professor James Gimzewski at UCLA. Professor Victoria Vesna and Dr. James Gimzewski have been collaborating in various exhibits and Art|Sci Center activities for the past decade. Her background as both a coordinator and administrative assistant has both freelance feature film production experience, as well as studio executive level administration skills.
Her current projects include the collaborative effort of OMG! (Victoria Vesna's installation at Glow Festival 2013), and the parties hosted by her private event company, Events by Lindy.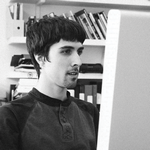 Ben Ward
Web Developer
Ben Ward
Ben Ward is a software engineer who develops websites for the ART|SCI Center.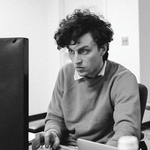 John Brumley
Soft/Hardware Programmer
Kenneth Azurin
Writer + Poet
Kenneth Azurin
Kenneth Azurin is a writer with a background in art gallery exhibitions, brand growth, digital marketing and product. No stranger to UCLA's Art|Sci Center + Lab, he's contributed to recent projects such as 2013's Octopus Mandala Glow and the following year's AURORA media art science benefit show. When he's not writing for Art|Sci, Kenneth spends his time reviewing art books and novels, exploring the city, playing basketball or working on various collaborative projects as one half of th1nkblender, a creative partnership which he cofounded with Dawn Faelnar. Somewhere in between, he's scrawling a novel.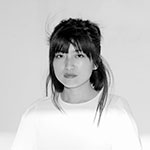 Hsinyu Lin
Hsinyu Lin
Hsinyu Lin is an artist / researcher / educator who studies the modes by which internet shape and gets shaped by social, cultural, economic, and political dynamics. She co­-founded voidLab, an intersectional feminist collective for women, non-binary, gender nonconforming, trans and queer people to express individual identities through arts and technologies. She received her M.F.A. from UCLA Design | Media Arts and is currently a visiting professor at Loyola Marymount University.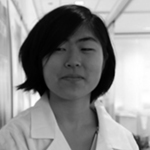 Judy Kim
Intern
Judy Kim studies cognitive science at UCLA and is interested in video games and films -- how they affect the brain, how to make them better, and how to play and watch them more.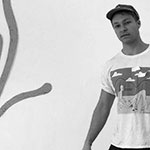 Samson Klitsner
Creative Technologist
Samson Klitsner
Samson Klitsner is an LA based designer with a focus on interactive environments, motion/video and sound. As a recent graduate of the Design | Media Arts program at UCLA, his work often embraces a playful multimedia approach that combines design thinking with interactive platforms.