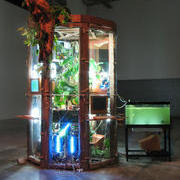 To view an interactive campus map, click here. For a downloadable pdf map with directions, click here.
UCLA ART|SCI Center presents: Katherine Moriwaki + Angelo Vermeulen: BUILD YOUR OWN REACTOR + BIOMODD
October 4th -- 5-8pm
Art|Sci Center
California NanoSystems Institute (CNSI), 5th floor
Both events are FREE and open to the public.
HANDS-ON MINI-WORKSHOP:
"Build Your Own Bioreactor"

In this workshop participants will learn how to build their own green algae bioreactor. Contraptions will be built that boost algae growth using simple, and mainly recycled and re-used materials such as aeration systems, lights and glassware.

LECTURE:
"Biomodd: Constructing Plant-Computer Hybrids and Mixed Realities"
Biomodd is a multifaceted socially-engaged art installation that finds meaningful relationships between biology, computers and people. On the most basic level, Biomodd creates symbiotic relationships between plants and computers, and ignites conversations among the community around them. Characteristically, the heat that is generated by electronic components is used to create ideal growing conditions for plant-based ecosystems inside sculptural computer networks. This dynamic is the catalyst for collaboration between the core team members - which include artists, biologists, computer scientists, game designers, gardeners, community organizers - and members of the local community in which the project takes place.
The first version of Biomodd started in Athens, Ohio in 2007, and has since traveled to the Philippines, Slovenia, New Zealand, Belgium and the Netherlands. In each location the project got its own unique outcome. Currently a new version is being developed by an international community at the New York Hall of Science in Queens, NY.